Bioactivity-Guided Isolation of Anti-Inflammatory Principles from Cistus parviflorus Lam.
Original Article
JOURNAL 883
---
Records of Natural Products
VOLUME & ISSUE
---
Year: 2019 Issue: 3 May-June
STATISTICS
---
Viewed
1882
times.
GRAPHICAL ABSTRACT
---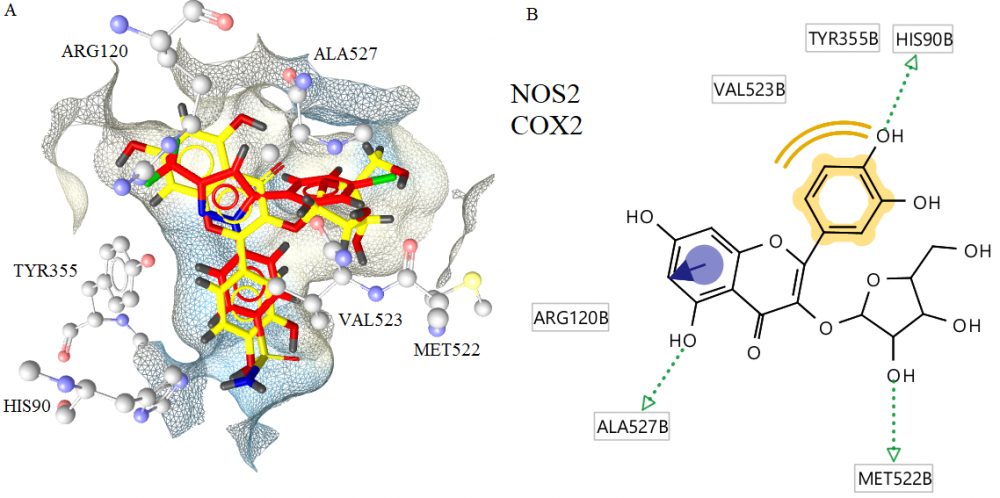 ABSTRACT
---
Bioactivity-guided fractionation and purification of Cistus parviflorus led to the isolation of two flavan-3-ol derivatives; gallocatechin (1) and epigallocatechin (2) and two flavonoid glycosides; avicularin (3) trans-tiliroside (4). The structures of the compounds were elucidated on the basis of NMR and ESIMS data. All compounds were isolated from C. parviflorus for the first time. Compounds 2 and 3 exhibited anti-inflammatory activity through decreasing the NOS2 and COX2 levels on LPS+IFN-γ treated RAW 264.7 cells. Molecular docking studies of avicularin, the most potent compound, were carried out in the active sites of NOS2 and COX2 to predict the most plausible binding modes and support the experimental data.
KEYWORDS
Cistaceae; inflammation; flavonoids; structure elucidation; avicularin; molecular modelling