Antioxidants and α-Glucosidase Inhibitors from Lactuca serriola L.
Short Report
JOURNAL 1647
---
Records of Natural Products
VOLUME & ISSUE
---
Year: 2020 Issue: 6 November-December
STATISTICS
---
Viewed
952
times.
GRAPHICAL ABSTRACT
---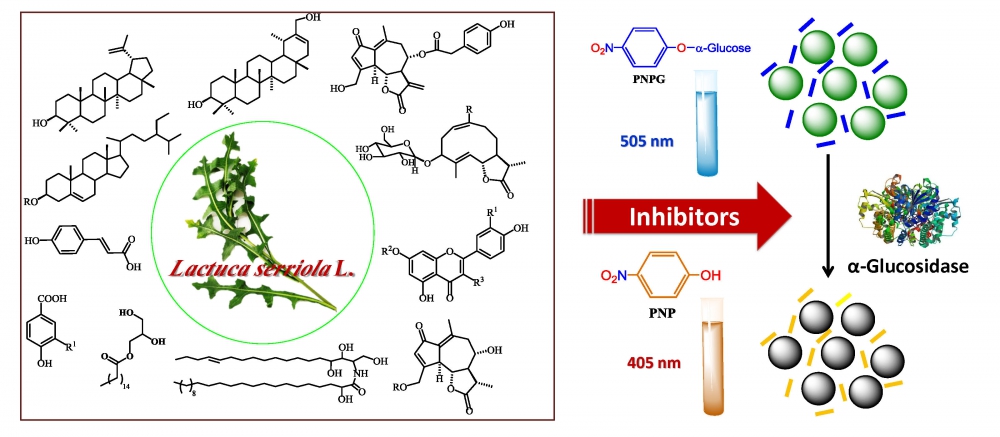 ABSTRACT
---
Our main objective in the present study was to search for bioactive compounds of potential antidiabetic and antioxidant activities from the methanol extract of Lactuca serriola L. aerial parts for the prevention and treatment of diabetes. Phytochemical investigation allowed the isolation of 17 known compounds identified based on various spectroscopic techniques as lupeol (1), β-sitosterol (2), taraxast-20-ene-3β,20-diol (3), glycerol monopalmitate (4) (2S,3S,4R,2`R,14E)-2-(2`-hydroxytetracosanoylamino)-14-octadecene-1,3,4-triol (5), lactucopicrin (6), daucosterol (7), (E)-p-coumaric acid (8), 11β,13-dihydrolactucin (9), 4-hydroxybenzoic acid (10), protocatechuic acid (11), kaempferol (12), quercetin (13), lactuside A (14), luteolin-7-O-β-D glucoside (15), lactuside B (16) and cichorioside B (17). The antioxidant activity was evaluated using ABTS, DPPH radical scavenging assays and FRAP assay. The ethyl acetate fraction showed remarkable α-glucosidase inhibitory activity (IC50, 9.16±0.17 µg/mL) and antioxidant activity among the tested fractions. The in vitro α-glucosidase inhibitory assay is reported in this study for the first time for L. serriola L. The results strongly suggest that L. serriola L. can be used as a potential good natural remedy targeting oxidative stress-related diabetes mellitus.
KEYWORDS
Asteraceae

Lactuca serriola

antioxidant

α-glucosidase inhibitors
SUPPORTING INFORMATION
---
Supporting Information
Download File A4-189-RNP-2005-1647-SI.pdf (3.22 MB)