Chemical Composition, Antibacterial and Cytotoxic Activities of the Essential Oil from Ficus tikoua Bur.
Short Report
JOURNAL 1450
---
Records of Natural Products
VOLUME & ISSUE
---
Available Online: November 25,2019
STATISTICS
---
Viewed
161
times.
Downloaded
0
times
GRAPHICAL ABSTRACT
---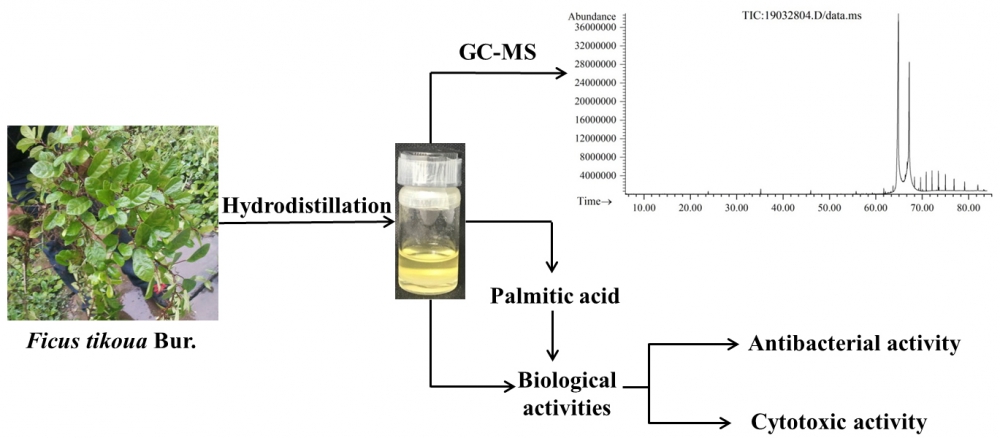 ABSTRACT
---
The chemical composition and biological activities of the essential oil from Ficus tikoua Bur. were reported for the first time. Fifty-three compounds, accounting for 99.60% of the total essential oil composition, were identified and the main components were palmitic acid (51.13%) and linoleic acid (47.54%). The essential oil revealed significant antibacterial activity with the inhibition zones (7.89–10.59 mm), MIC (0.20–6.25 mg/mL) and MBC (0.20–12.50 mg/mL) against Staphylococcus aureus, Bacillus subtilis, Enterococcus faecalis, Escherichia coli, Pseudomonas aeruginosa and Proteus vulgaris. The essential oil exhibited significant cytotoxicity against A549, NCI-H1299, PC-3 and K562 tumor cells with the IC50 values of 131.08, 50.32, 120.58 and 31.68 μg/mL, respectively. The essential oil exhibited selective cytotoxic activity to human tumor cell lines, with a significantly lower cytotoxicity to human normal cell line (MRC-5, IC50 = 161.75 μg/mL) than to tumor cells. Additionally, palmitic acid, as the major compound, aslo revealed significant antibacterial and cytotoxic activities.
KEYWORDS
Ficus tikoua Bur.

essential oil

GC-MS

palmitic acid

antibacterial activity

cytotoxic activity
SUPPORTING INFORMATION
---
Supporting Information
Download File 161-RNP-1910-1450-SI.pdf (498.78 KB)