Organic Communications Articles
EISSN: 1307-6175
Issue: 3 July-September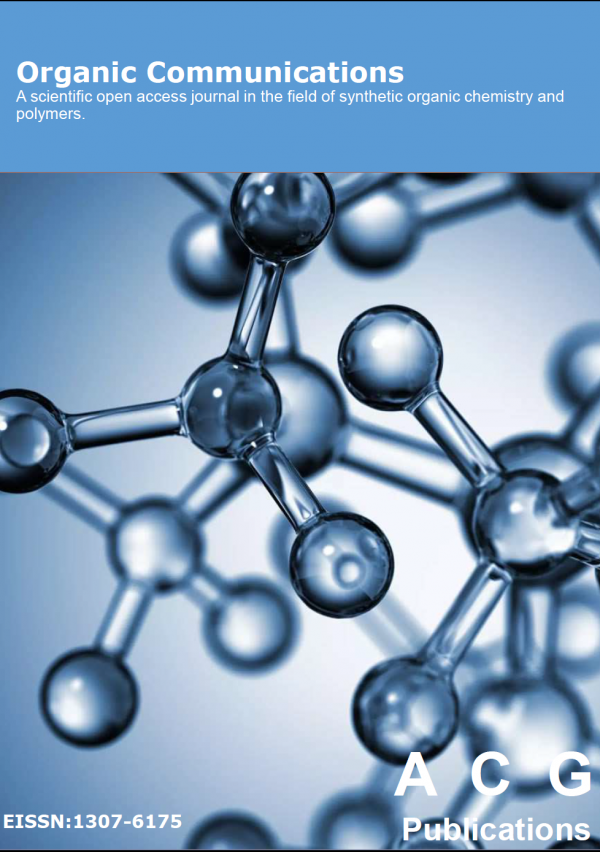 DOWNLOAD PDF
Organic Communications
Year: 2014 Volume: 7 Issue:3 July-September
Original Article
1) Synthesis and Bioevaluation of Some Phenolic Diarylpropanes as Anti-Cancer Agents
Org. Commun. (2014) 7:3 ; 85 - 97
by Kshama Kundu, Mrityunjay Tyagi, Birija S. Patro, Subrata Chattopadhyay and Sandip K. Nayak
A convenient synthesis of six phenolic diarylpropanes has been formulated. A CuBr 2-catalyzed regioselective reaction was the key step for bromination of the arylpropanes. All the compounds showed good cytotoxicity to the human lung cancer A549 cell line. However, only one of these compounds induced apoptosis and a G1 cell cycle arrest by augmenting cellular ROS status. Introduction of bromo-substitution at the aryl groups increased the cytotoxicity significantly, but that was mainly due to necrosis.
Keywords
Anti-cancer activity
apoptosis
CuBr 2-induced bromination
reactive oxygen species
DETAILS
PDF OF ARTICLE
© 2014 ACG Publications. All rights reserved.
Original Article
2) Nano-TiO 2 catalyzed microwave synthesis of α -Hydroxyphosphonates
Org. Commun. (2014) 7:3 ; 98 - 105
by S. Siva Prasad, S. H. Jayaprakash, K. Umamaheswara Rao, N. Bakthavatchala Reddy, P. Chenna Rohini Kumar and C. Suresh Reddy
A simple, novel and green method is reported for the synthesis of α-hydroxyphosphonates by hydro-phosphonylation of various structurally diversified aldehydes (aromatic/ heteroaromatic) using Nano-TiO 2 as catalyst under solvent free microwave condition. Environmentally benign reaction procedures, short reaction times, easy work-up, high product yields, and reusability of catalyst for several cycles with consistent activity makes this protocol a highly attentive one.
Keywords
α -Hydroxyphosphonates
Nano-TiO 2
Hydro-phosphonylation
microwave
DETAILS
PDF OF ARTICLE
© 2014 ACG Publications. All rights reserved.