Organic Communications Articles
EISSN: 1307-6175
Issue: 3 July-September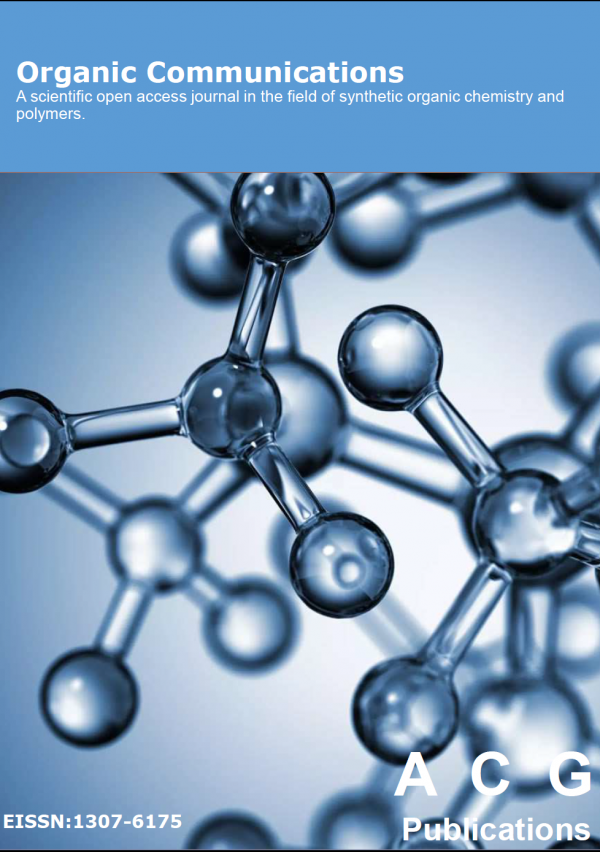 DOWNLOAD PDF
Organic Communications
Year: 2016 Volume: 9 Issue:3 July-September
Original Article
1) Design, synthesis, characterization and bioassay of novel carboxamide derivatives of Celecoxib
Org. Commun. (2016) 9:3 ; 54 - 64
by Badvel Sreedhar, Thummaluru Veera Reddy, Chamarthi Naga Raju and Gandi Vidya Sagar Reddy
A series of new carboxamide derivatives of celecoxib, 4-(5-p-tolyl-3-(trifluoromethyl)-1H-pyrazol-1-yl)benzenesulfonamide 1 were synthesized by the reaction of 3-(4-(3-(trifluoromethyl)-5-p-tolyl-1H-pyrazol-1-yl)phenylsulfonylamino)propanoic acid 2 with various bio-potent amines by using 1-methylimidazole as a base via. Schotten-Baumann reaction. The acid 2, which inturn prepared from 1 bytreatingwith3-bromopropanoic acid in the presence of sodium hydride. The newly synthesized compounds were characterized by IR, NMR and mass spectral analysis. The title molecules were evaluated for their efficacy as antimicrobial and antioxidant agents in vitro. Compounds 4(c-g) showed high growth inhibitory activity against both bacteria and fungi. The compounds 4c and 4f exhibited promising antioxidant activity .
Keywords
Carboxamide
1-methyl imidazole
Schotten-Baumann reaction
antioxidant activity
antimicrobial activity
DETAILS
PDF OF ARTICLE
© 2016 ACG Publications. All rights reserved.
Original Article
2) Synthesis and cytotoxic activities of novel 2-(1,5-bis(aryl) penta-1,4-dien-2-yl) benzo[d]thiazol derivatives
Org. Commun. (2016) 9:3 ; 65 - 72
by Betül Şahin, Ayşe Şahin Yağlıoğlu and Mustafa Ceylan
Novel 2-(1,5-bis(aryl)penta-1,4-dien-2-yl)benzo[d]thiazol (5a,b) and 2-(((1S,2S,E)-2-(benzo[d]thiazol-2-yl)-1,5-di-arylpent-4-en-1-yl)thio)aniline (6a,b) derivatives were obtained by addition of 2-aminobenzothiol to bis-benzylidinecyclobutanones (3a,b). The structures of the obtained compounds were characterized using the spectroscopic methods (NMR, IR, Elemental Analysis). Compounds 5a,b showed cytotoxic activities against C6 (Rat Brain tumor cells) and HeLa (human uterus carcinoma) in vitro.
Keywords
2-Alkylbenzothiazol
Anticancer
C6 and HeLa cell lines
DETAILS
PDF OF ARTICLE
© 2016 ACG Publications. All rights reserved.