Journal of Chemical Metrology
Journal of Chemical Metrology
EISSN: 1307-6183
A scientific open access journal in the field of analytical chemistry and accreditation
Journal of Chemical Metrology
A scientific open access journal in the field of analytical chemistry and accreditation
LATEST ARTICLES
Original Article
In-vitro release study of Racecadotril from granule sachets: influence of Brij-35
J. Chem. Metrol. (2023) in press ; 1 - 11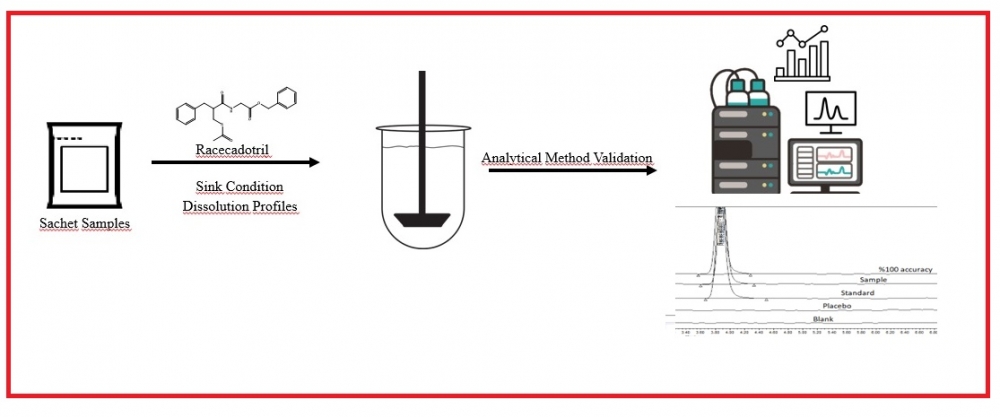 For sachet drug forms containing Racecadotril, which are freely soluble in methanol and methylene chloride but practically insoluble in water, used as an anti-diarrhea, suitable dissolution media meeting the parameters requested by the authorities are not available in the literature and monographs. For this reason, a suitable dissolution medium was determined in accordance with the guidelines and the dissolution profiles of reference product and samples used in the study. The profiles were compared, and the method was validated. In order to determine the most suitable medium for the release of drug product, in vitro dissolution tests were performed in media prepared by different buffers similar to the pH of the gastrointestinal tract (GIT) and media containing Brij 35. In this context, the effects of buffers, pH, and different surfactants were evaluated, and it was found that Polyoxyethylene 23 lauryl ether (Brij-35), a nonionic surfactant, increased the solubility. The results were obtained with RP-HPLC method using Kromasil C18 150 mm x 4.6 mm, 5 µm column with a flow rate of 1.5 ml/min at 210 nm wavelength in 7 minutes for Racecadotril, which dissolves at least 60% of the label value after 45 minutes after the dissolution studies performed with a type II apparatus at 37°C. A suitable dissolution medium was found for sachet drug forms containing Racecadotril, and the analytical method was validated in accordance with the ICH Q2 (R1) guideline. In addition, the difference factor (f1) and similarity factor (f2) were calculated to compare the dissolution profiles of the reference product and samples in this determined dissolution medium.
DOI
http://doi.org/10.25135/jcm.91.2307.2837
Keywords
Racecadotril
dissolution medium
Brij-35
dissolution Rate Validation
sink condition
Available online: September 04, 2023
DETAILS
DOWNLOAD PDF
© ACG Publications. All rights reserved.