Phytochemical Profiles and Antioxidant Activity of Salvia species from Southern Italy
Original Article
JOURNAL 982
---
Records of Natural Products
VOLUME & ISSUE
---
Year: 2019 Issue: 3 May-June
STATISTICS
---
Viewed
2400
times.
AUTHORS
---
Marzia Vergine, Francesca Nicolì, Carmine Negro, Andrea Luvisi, Eliana Nutricati, Rita Annunziata Accogli, Erika Sabella and Antonio Miceli
PDF OF ARTICLE
GRAPHICAL ABSTRACT
---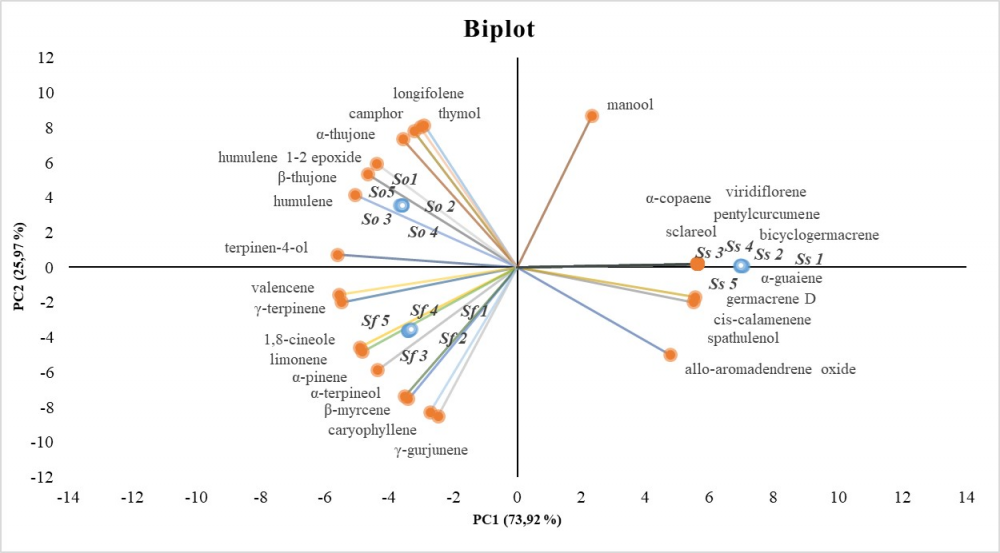 ABSTRACT
---
The purpose of this research was to investigate phytochemical profiles and antioxidant activity in four Salvia species growing in Salento (Southern Italy). The hydrodistillation products obtained from the aerial parts of Salvia clandestina, Salvia fruticosa, Salvia officinalis and Salvia sclarea were characterized by GC–MS and 50 compounds were detected. With the exception of S. clandestina, that did not produce essential oils, the other species shared different amounts of monoterpenes oxygenated (camphor 2.13%-9.16%) and sesquiterpenes hydrocarbons (caryophyllene 4.65%-18.33%; humulene 1.87%-12.39%). The phenolic profiling, analyzed by HPLC ESI/MS-TOF, highlights that S. clandestina is a rich source of danshensu (4.76 mg/g DW) while S. sclarea of rosmarinic acid (15.57 mg/g DW). Mutivariate statistical analysis (PCA) of hitherto studied Salvia phenols have shown similarities in profiles between S. fruticosa and S. officinalis, while S. clandestina and S. sclarea showed distinctive profiles. Otherwise, essential oil profiles analysed by PCA are clearly different among the three productive species. The extracts from collected plants were found to be effective antioxidant in three different in vitro assays (DPPH, ABTS, FRAP and Superoxide anion scavenging activity). Thus, they can be proposed as natural ingredients in functional foods, herbal medicines or as sources of bioactive molecules.
KEYWORDS
Salvia clandestina L.

Salvia fruticosa Mill.

Salvia officinalis L.

Salvia sclarea L.

essential oils

phenolic compounds.