Organic Communications Articles
EISSN: 1307-6175
Issue: 1 January-March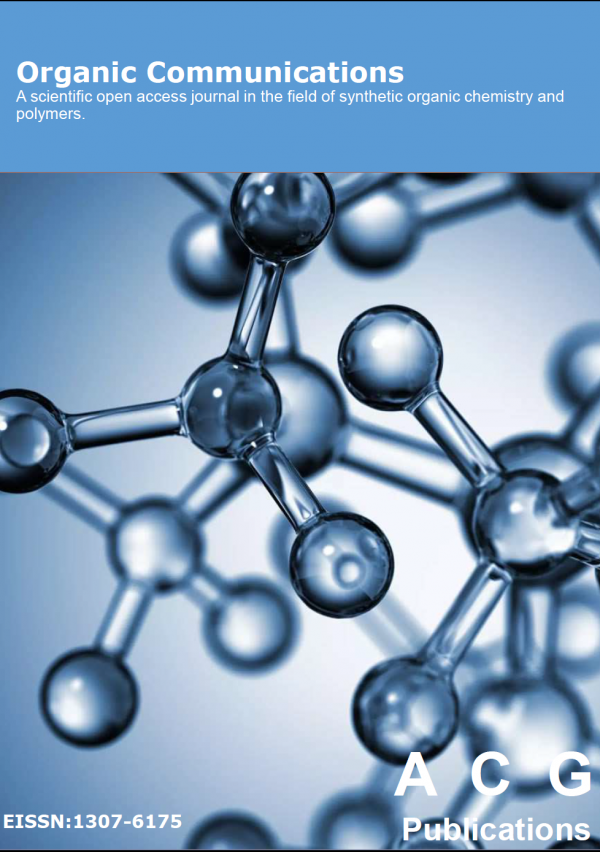 DOWNLOAD PDF
Organic Communications
Year: 2013 Volume: 6 Issue:1 January-March
Review Article
1) Baker's yeast catalyzed asymmetric reduction of prochiral ketones in different reaction mediums
Org. Commun. (2013) 6:1 ; 1 - 11
by Adi Wolfson, Christina Dlugy and Dorith Tavor
Baker's yeast catalyzes the asymmetric reduction of prochiral ketones in water and in various organic solvents. The reaction in water, which is the first solvent of choice for bio-reactions, led to a high product yield and enantiomeric excess, but the low miscibility of organic molecules in water resulted in lower conversions when more hydrophobic ketones were used. Petroleum-based solvents such as hexane and petroleum ether were also successfully employed as reaction mediums, but the viability of the yeast in these solvents was negligible, and they have severe environmental impacts due to their high toxicity levels. Performing the reaction in green solvents, like ionic liquids, fluorous media, and glycerol-based solvents, which have low volatilities and can be recycled, enabled dissolution of the substrates and of the energy source and also promoted isolation of the product. Among all tested green solvents, glycerol-based solvents are preferable due to their biodegradable natures and their origins from renewable sources.
Keywords
Asymmetric reduction
b -keto esters
green solvents
glycerol.
DETAILS
PDF OF ARTICLE
© 2013 ACG Publications. All rights reserved.
Original Article
2) Synthesis and characterization of related substances and metabolite of tadalafil, a PDE-5 inhibitor
Org. Commun. (2013) 6:1 ; 12 - 22
by Goverdhan Gilla, Raghupathi Reddy Anumula, Sampath Aalla, Himabindu Vurimidi, Mahesh Reddy Ghanta
Tadalafil (Cialis) is a potent and selective inhibitor of cyclic guanosine monophosphate (cGMP)-specific phosphodiesterase type-5 (PDE-5) and it is administered orally for the treatment of erectile dysfunction (ED). Two synthetic schemes were evaluated to study the impurity profile of tadalafil. Six impurities were detected in the bulk substance (prepared by two methods) at a level of 0.1-0.15%. Identification, synthesis, characterization of impurities (related substances) and metabolite and origin of their formation is described .
Keywords
Tadalafil
PDE-5 inhibitor
metabolite
related substances
two synthetic schemes.
DETAILS
PDF OF ARTICLE
© 2013 ACG Publications. All rights reserved.
Original Article
3) A Simple and efficient protocol for the synthesis of quinoxalines catalyzed by pyridine
Org. Commun. (2013) 6:1 ; 23 - 30
by Sachin B. Wadavrao, Ramesh S. Ghogare and A. Venkat Narsaiah
A simple and efficient protocol has been developed for the synthesis of quinoxalines. In the synthesis, the reaction of 1,2-phenylenediamines and phenacyl bromide were carried out using pyridine as a catalyst in THF at room temperature to give quinoxalines. This method is applicable to a variety of substrates to afford the corresponding derivatives in excellent yields.
Keywords
Phenacyl bromide
1
2-phenylenediamines
pyridine
quinoxalines.
DETAILS
PDF OF ARTICLE
© 2013 ACG Publications. All rights reserved.
Original Article
4) Facile synthesis, characterization and antimicrobial activities of diphenylphosphoryl derivatives of substituted aryl and nitrogen heterocycles
Org. Commun. (2013) 6:1 ; 41 - 46
by G. Subba Reddy, K. Uma Maheswara Rao, S. Santhi Sudha, N. Bakthavatchala Reddy, Ch. Syama Sundar, C. Naga Raju and C. Suresh Reddy
Diphenylphosphoryl derivatives of substituted aryl and nitrogen heterocycles were prepared by a one-pot process involving sequential reaction of diphenylphosphine chloride with dry methyl alcohol/ethyl alcohol and then with different halides of substituted nitrogen heterocycles/aryl halides. The title compounds (5a-j) structures were established by analytical, IR, NMR ( 1H, 13C and 31P) and mass spectra, and they have been screened for their antimicrobial activity. They exhibited significant antibacterial and antifungal activity.
Keywords
Diphenylphosphoryl derivatives
Nitrogen heterocycles
antibacterial activity
antifungal activity.
DETAILS
PDF OF ARTICLE
© 2013 ACG Publications. All rights reserved.
Original Article
5) Mg(OMe) 2 as a versatile catalyst for one-pot synthesis of 6-aryl-5-cyano-2-(oxo / thio) uracil derivatives and their antimicrobial evaluations
Org. Commun. (2013) 6:1 ; 47 - 54
by Yellajyosula L N Murthy, Rama Mohana Rao Saviri, Atchuta Ramaiah Parimi and Saranapu Nareesh
A series of substituted 6-aryl 5-cyano 2-uracil and 6-aryl 5-cyano 2-thiouracils (1a-1l) were achieved by the reaction of various aldehydes, ureas, thioureas and ethylcyanoacetate using Magnesium methoxide as a versatile catalyst. All compounds were screened for antibacterial and antifungal activities against 6 strains Bacillus substilis , Streptococcus sp, Pseudomas aeruginosa, Klebsiella pneumoniae, Candida albicans, Aspergillus nigermicroorganisms using Muller-Hinton broth method. Some of the prepared compounds exhibited promising activities when compared to the standard Linezolid & Amphotercine-B.
Keywords
Magnesium methoxide
oxo/thio uracil derivatives
antimicrobial activity
methodology.
DETAILS
PDF OF ARTICLE
© 2013 ACG Publications. All rights reserved.
Original Article
6) Design, synthesis and evaluation of some novel 3(2H)-pyridazinone-2-yl acetohydrazides as acetylcholinesterase and butyrylcholnesterase inhibitors
Org. Commun. (2013) 6:1 ; 55 - 67
by Tijen Önkol, Mehtap Gökçe, İlkay Orhan and Fatma Kaynak
In this study eighteen new N'-[(4-Substituephenyl)sulfonyl]-2-[4-(Substituephenyl)-piperazine]-3(2H)-pyridazinone-2-yl acetohydrazide V derivatives were synthesized as acetylcholinesterase and butyrylcholinesterase inhibitors. The acetylcholinesterase (AChE) and butyrylcholinesterase (BChe) inhibitory activity of V derivatives was measured using Ellman's method. Some of N'-[(substituted phenyl)sulfonyl]-2-(6-substituted-3(2H)-pyridazinone-2-yl)acetohydrazides V showed inhibitory activities close galantamine at 0.05 mM 0.1 mM and 0.2 mM concentrations . According to screening data, the analog of derivatives of V which possessed CF 3 on para position of phenylsulfonyl ring improved anti-AChE activity. Also antimicrobial activity of the synthesized compounds have been evaluated. In general V Derivatives showed weak antibacterial activity when compared reference compounds. Also all the compounds are less potent than fluconazole against yeast like fungi.
Keywords
3(2H)-Pyridazinone
p-substituted sulfonylchloride acetohydrazides
acetylcholinesterase (AChE) inhibitor
butyrylcholinesterase (BChE) inhibitor.
DETAILS
PDF OF ARTICLE
© 2013 ACG Publications. All rights reserved.