Organic Communications Articles
EISSN: 1307-6175
Issue: 4 October-December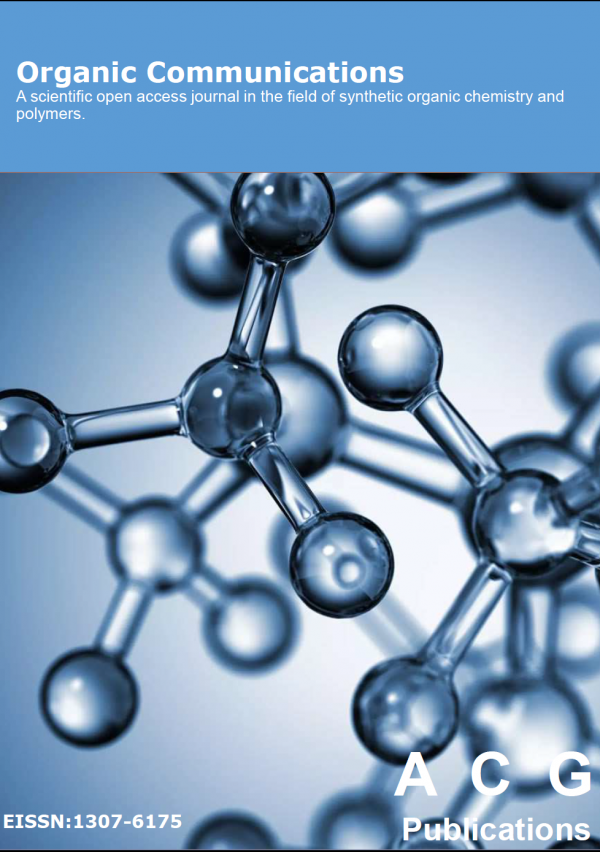 DOWNLOAD PDF
Organic Communications
Year: 2015 Volume: 8 Issue:4 October-December
Original Article
1) Amberlyst-15: An Efficient and reusable heterogeneous catalyst for the synthesis of β-amino carbonyl compounds
Org. Commun. (2015) 8:4 ; 90 - 97
by Pathakota Venkata Ramana, Kunda Uma Maheswara Rao, Balam Satheesh Krishna, Soora Harinath Jayaprakash, Shaik Ahammed Kabeer, Kaveti Sudheer and Cirandur Suresh Reddy
A simple and efficient method has been developed for the synthesis of β-amino carbonyl compounds from aromatic ketones, aldehydes and amines by Mannich reaction in the presence of amberlyst-15 as a reusable heterogeneous catalyst at room temperature under solvent-free conditions. The noteworthy advantages of the present method are short reaction times, good product yields, simple procedures and use of non-toxic catalyst.
Keywords
β -Amino carbonyl compounds
Amberlyst-15
Mannich reaction
DETAILS
PDF OF ARTICLE
© 2015 ACG Publications. All rights reserved.
Original Article
2) Synthesis and antibacterial activity studies of 6-methoxyquinazoline-triazole hybrid derivatives
Org. Commun. (2015) 8:4 ; 98 - 108
by Venkataramireddy Veeramreddy, Tejeswararao Allaka, Jayashree Anireddy and Ravi Varala
The Click reaction between the electronically divergent triazole compounds 4-((l-(4-(tert-butyl)benzyl)-1H-l,2,3-triazol-4-yl)methoxy)-5-methoxy-2-nitrobenzamides (8a-e) with different aldehydes using Na 2S 2O 4 in DMSO was performed to obtain hybrid of quinazolinone-triazole derivatives (10a-o). All the synthesized compounds were fully characterized on the basis of their detailed spectral studies and screened for their antibacterial activities strains using paper disc method. The compounds (10 a-o) were evaluated for their antibacterial activity against human pathogenic organism Escherichia Coli, Staphylococcus aureus (Table 1). The investigation of antibacterial screening data reveal that 10e, 10f, 10g, 10jand 10n were highly active against E. coli, where as 10b, 10d, 10j,10k and 10o showed least activity. Compounds 10b, 10e, 10f, 10g, 10i, 10k and 10n showed high activity against S. aureus, where as compounds 10d, 10j, 10o showed least activity. Compounds 10c, 10h, 10l and 10o were inactive against both organisms employed.
Keywords
The Click reaction
methoxyquinazolinone-triazole
reductive cyclization
DETAILS
PDF OF ARTICLE
© 2015 ACG Publications. All rights reserved.